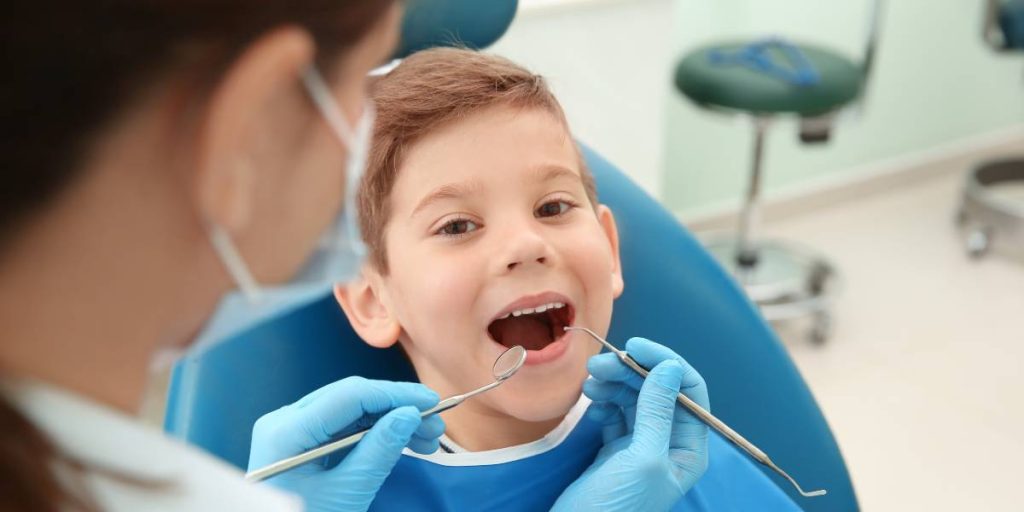 Ensuring that your children receive appropriate dental care is crucial for their overall health and well-being. It requires a combination of patience, understanding, and specialized techniques to make dental visits a positive and stress-free experience.
Enter Dr. Boyd Simkins and the team at Castle Creek Pediatric Dentistry.
Our pediatric dentist office conveniently located near Layton, UT is committed to providing top-quality dental care tailored specifically to meet the unique needs of the children in our community. With a team of highly skilled and compassionate pediatric dentists, we strive to create a welcoming and child-friendly environment where kids feel at ease. Our office is equipped with state-of-the-art equipment and designed to minimize sensory stress, ensuring that children of all backgrounds and abilities receive the best care possible. Whether it's a child's first dental visit or ongoing oral health needs, we are dedicated to promoting healthy smiles and helping Layton's children grow up with a positive attitude towards dental care.
Child Dentistry Made Simple
Child dentistry, often referred to as pediatric dentistry, is all about making dental care simple and approachable for kids. Our dedicated pediatric dental team understands that children have unique needs and concerns when it comes to their oral health. We focus on creating a warm and friendly environment where children feel comfortable and at ease. Our approach is centered around gentle care, effective communication, and education. We believe in teaching children good oral hygiene habits from an early age, so they can maintain healthy smiles throughout their lives. Whether it's a routine check-up, cavity treatment, or guidance on proper brushing and flossing techniques, we make child dentistry simple, ensuring that kids leave our office with smiles on their faces and the knowledge to care for their teeth with confidence.
A Dentist for Kids with Special Needs
Special needs children often require extra care, patience, and expertise to ensure their oral health is maintained. Children with special needs, such as autism or sensory processing disorders, may be highly sensitive to sensory stimuli, making routine dental procedures intimidating or overwhelming. Some special needs children have limited communication skills, which can make it challenging for dental professionals to understand their needs or address their concerns. They also may exhibit challenging behaviors during dental visits, making it difficult to perform necessary treatments or maintain good oral hygiene.
At Castle Creek Pediatric Dentistry, members of our staff are specially trained to work with children, including those with special needs. Our office is designed to be child-friendly and accommodating. We use behavior management techniques like positive reinforcement, distraction, or desensitization to help children remain calm during procedures. In some cases, sedation or anesthesia may be necessary to perform dental work safely and comfortably for the child. In situations like this, we will work closely with parents, children, and an expert nurse anesthetist to make the procedure as pleasant as possible.
The Kid-Friendly Dentist You've Been Looking For
At Castle Creek, we understand that parents in Layton want their children to have a positive and stress-free experience when it comes to dental care. That's why we go the extra mile to provide the kid-friendly dental experience parents have been looking for.
Our team of pediatric dentists and staff members are not only highly skilled professionals but also compassionate individuals who genuinely enjoy working with children. We use child-friendly language and communication techniques to explain procedures in a way that kids can understand, helping them feel more comfortable and informed during their visit.
Moreover, we emphasize preventive care and education. We take the time to educate both children and parents on proper oral hygiene practices, making it a fun and interactive learning experience. By instilling good habits early, we aim to empower children to take control of their oral health.
In cases where a child may have dental anxiety or require more extensive treatments, our dental team is trained in behavior management techniques and sedation options, ensuring that we can address a wide range of needs while keeping the child's comfort and safety a top priority.
Ultimately, our goal is to provide a kid-friendly dental experience for Layton residents that leaves both children and parents feeling satisfied, informed, and confident in their oral health journey. We understand that a positive early experience sets the foundation for a lifetime of healthy smiles, and we are here to support your child every step of the way.
Castle Creek Pediatric Dentistry: The Children's Dentistry Solution for Layton Families
Give your child the gift of a healthy and happy smile. Book an appointment with Castle Creek Pediatric Dentistry to get them started on their lifelong journey of positive, stress-free oral health.